Li visited our factory in June 2019. She is a beautiful Chinese woman who has been stationed in Senegal for a long time. Her company has built two new exhibition halls, each of which is 300 square meters and the height of the roof is 25 meters. They are going to install a 24000BTU solar powered ac unit each in the two exhibition halls for testing and customer visits.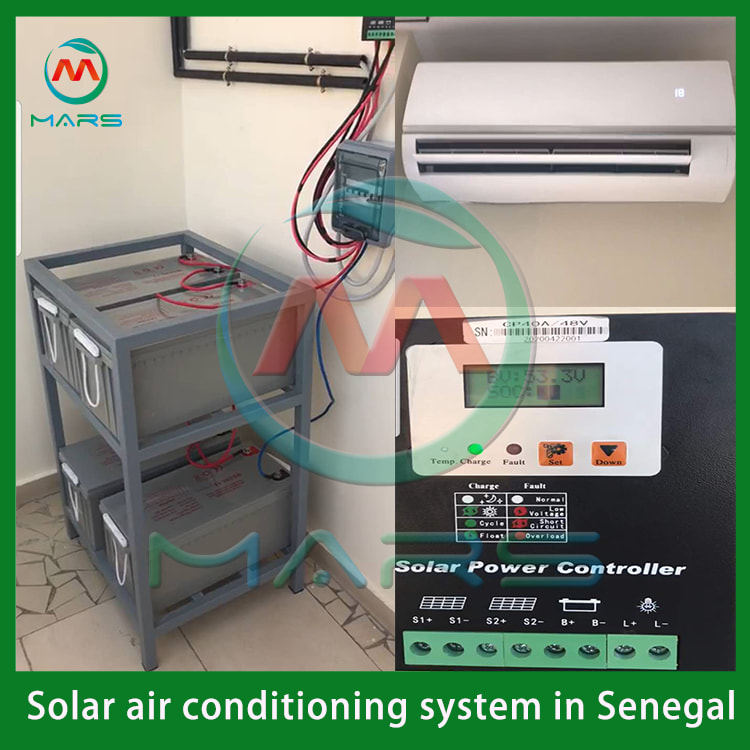 Because the installation of solar panel is more than 25 meters away from the battery, we consider that the power loss during this distance will be high and will cause unnecessary waste, so we upgrade the PV cable from 4mm2 to 6mm2 for free. Both Li and her company are satisfied with our professionalism for solar powered ac unit.
A little episode happened during the solar powered ac unit installation. The outdoor unit of the solar powered ac unit needs to be installed near the battery. Li's engineer placed the solar powered ac outdoor unit and the battery 15 meters apart, and the line loss was too high and the solar powered ac was not cooling. After watching the video provided by Li, our engineer gave her two suggestions: 1) Move the battery so that the battery is close to the solar powerd ac outdoor unit. 2) Replace a thick cable. Li's engineer finally replaced the cable, and the solar powered ac unit worked normally.