Tan is an engineer in Mongolia. He sent a drawing of a off grid wind and solar power system to Mars solar engineer.Our engineer check and design this off grid wind and solar power system carefully. We provide the price list and technical detail for off grid wind and solar power system to Tan very soon,the customer was very satisfied with our off grid wind and solar power system and proposed to buy 4sets of 10kw off grid wind and solar power system.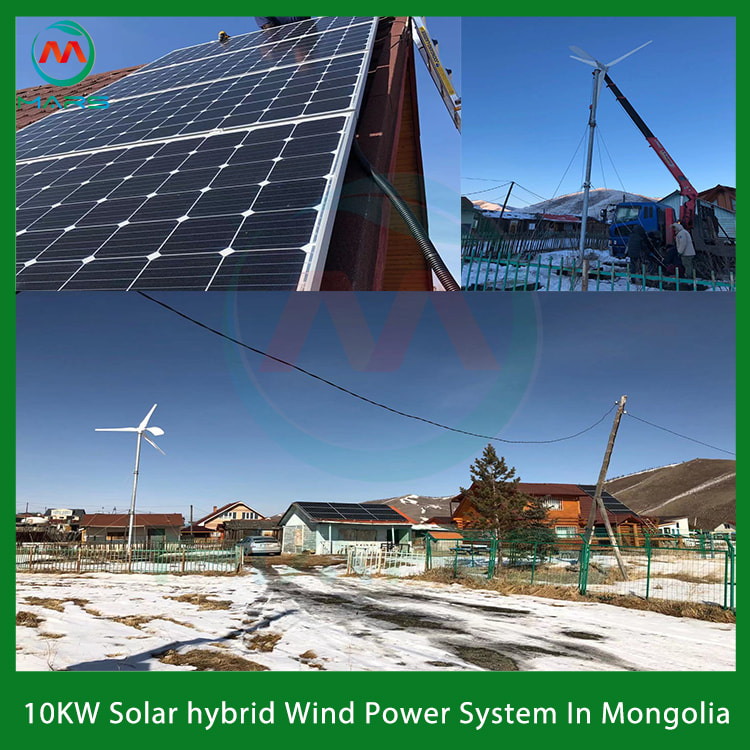 Mars Solar as experienced solar system manufacturer,wind system manufacturer since 2008 Our engineers have more than ten years experience,develop long-term cooperation with customer in Mongolia and Inner Mongolia.Normally the wind blades diameters are 5.4 meters. Because the wind speed in Mongolia is very fast, large diameter wind turbine is not safe,so we provide 4.5 meters wind turbine to Tan's off grid wind and solar power system project.We made the blades slightly smaller and the tail for yaw protectionm,ensure safe and secure use.
In addition, we are designing drawings for customers based on the actual situation.Because it will snow in winter, the brackets of the solar panels need to be thickened and specially designed. No matter it is the design of the roof support but also the design of the ground support, our engineers are always to meet the needs of customers.
Tan told us that he was worry about the goods package. The customer told us that when we bought standalone power solar system from other suppliers, that supplier simply packaged the solar panels, which caused the solar panels to be damaged during transportation. Mars standalone power solar system are mostly packed in plywooden boxes, which are safe during transportation .During the warranty, we ship free new solar panel to replace the damage one, and free damage PCB board for the inverter. Tan receive our standalone power wind and solar system and feedback that the standalone power wind and solar system are safe and everything is running normally after installation.
If you have any special requirements for the installation environment or other aspects of the standalone power solar system,wind power system,wind and solar hybrid system,please feel free to contact us.No matter what the customer needs, we will be 100% satisfied!