Solar water pumps for agriculture are mainly used in daily life water, agriculture and forestry irrigation, desert management, livestock water, village and town water supply, sewage treatment projects and fountain landscapes. It can also be applied to aerators, sprinkler irrigation and drip irrigation systems.
 The solar water pumps for agriculture has the concepts of low carbon, energy saving, and environmental protection. It can also significantly improve the living standards of people in areas lacking water and electricity. Therefore, it will have a broad market prospect and huge social value.
This is Mars solar solar water pumps for agriculture project,it is a 1.5KW solar powered irrigation system in Thailand.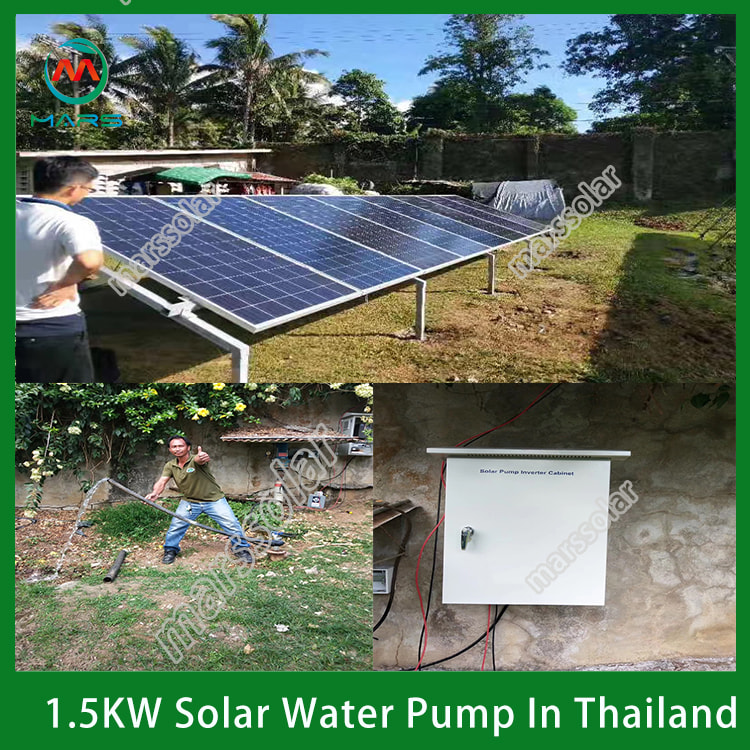 1.5KW solar water pump system details:
8pcs 350W poly solar panel
Vmp:38.7V Voc:47.2V Imp :9.59A
Size : 1956*992*40mm
25 years life time (CE TUV)
Coated steel Glass:3.2mm Tem pered
Terminal block:IP65 with MC4 connector
Efficiency performance :25 years 80 % 20 year 85% 10 years 90%
Slope Roof or Flat roof or Ground (option)
including complete fittings
wind load:55m/s,snow load:1.5kn/m2
structure: Anodized Aluminum +stainless steel, Angle adjustable
(other type of rack can be customized as per client's requirement )
2.2KW solar water pump inverter
Solar input votage:310V
MPPT controller: 450V-700V
MPPT effeiceny: 99.99%
Thunder protection,water full protection
Output:220V single phase
1)From solar panel to inverter: 4mm2 PV cable:100M
2)From inverter to pump: 3*2.5mm2 AC cable:100M

Model:4SP14-5

Power:1.5KW Max head:14~32m Water flow:3m³/h~18m³/h

1.5KW 2HP submersible water pump, 50HZ,220V single phase Body: AISI304 Impeller:AISI304 Suitable for well and river